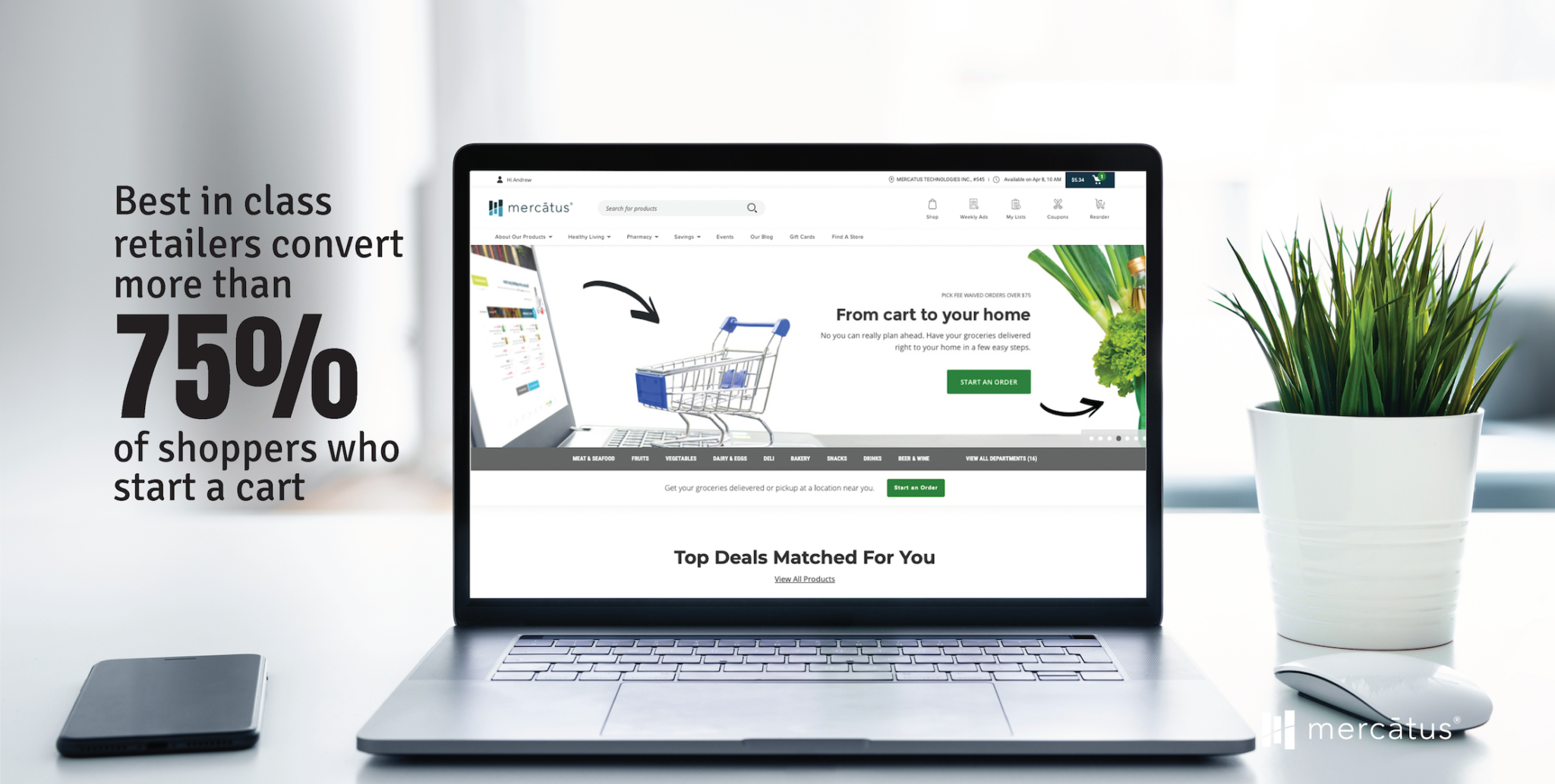 Your grocery eCommerce website should offer these 5 features
A successful grocery eCommerce experience needs to meet shoppers needs. These are the top 5 features you should offer on your site.
The COVID-19 pandemic has caused an unprecedented surge in eCommerce adoption by shoppers. As reported by emarketer.com, consumer insights groups, CivicScience, polled US adults about their digital grocery shopping habits between March 1 and March 22, 2020 and the percentage of those who said they increased their online grocery shopping jumped from 11% to 37%.
Grocery retailers have had to move quickly to ensure that their online experiences are serving the needs of their shoppers and their business. And what that grocery eCommerce experience offers to shoppers is critical in determining whether shoppers will return or will your shoppers share of wallet bleed away to other, better prepared online grocery retailers.
Mercatus recently sponsored the Digital Maturity Benchmark Report for grocery produced by Incisiv, a leading consumer insights firm. The report reveals that grocer's with leading online shopping experiences have seen an average growth of 2.2 times higher than their competitors. Moreover, retailers who own their eCommerce experience have the flexibility to implement their features of choice while retaining the control needed to continuously improve the experience for shoppers. 
How is your grocery eCommerce website stacking up?
What shoppers expect to see on your grocery eCommerce website
To satisfy customer expectations, there are five key features retailers should offer with their online shopping experiences: 
Efficient product search
Consistent online and in-store product information
Add shopping list items to cart 
Frictionless checkout 
Click-and-collect and home delivery fulfillment options
1. Efficient product search
The biggest reason grocery eCommerce websites fail is because shoppers can't find what they're looking for. Product discovery is the first step in the buying journey. Helping the shopper find the products they want in the fewest steps possible is a critical component to eCommerce success. 
Incisiv's report identified three search features deemed "table stakes", or essential, features for eGrocers:
Auto-complete searches
The ability to search in a category
Add-to-cart from the search results Listing Page
In the example below cited by Incisiv, you can see how Albertsons allows users to perform a keyword search within a relevant product category. This helps shoppers narrow in on the actual item they want.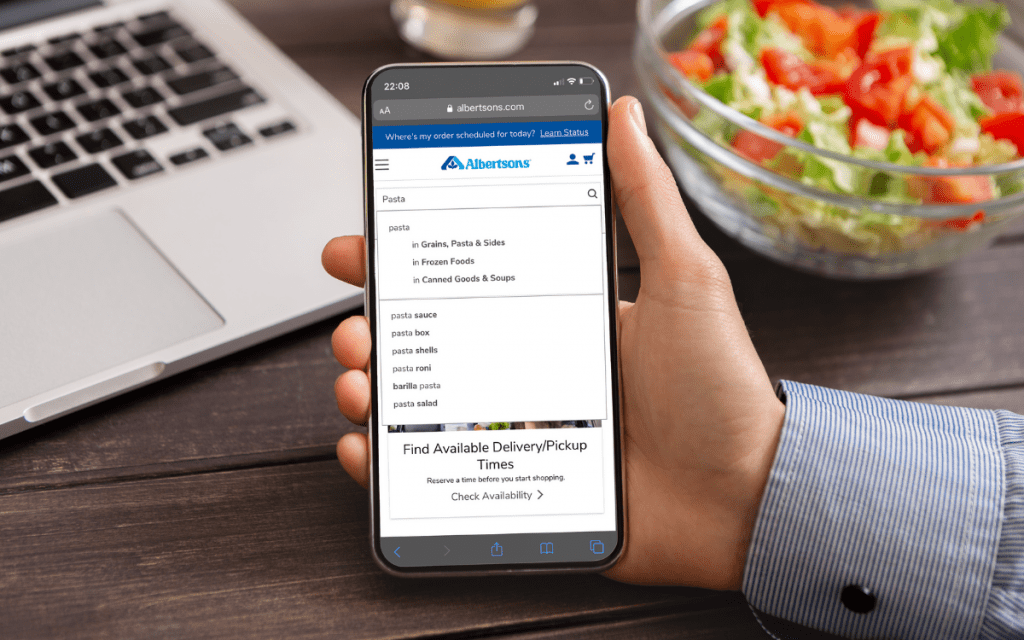 ---
For grocers who want to move beyond the pack, four additional features were found to be necessary. Find out what they are by downloading the Digital Maturity Benchmark Report.
---
Just as important as strong search functionality is the quality of data that supports it. 
Ron Bonacci, VP of Advertising and Marketing at Weis Markets, knows this well. In an interview on the Digital Grocer Podcast, he noted:
"At the end of the day, if you don't have good product data, it has a detrimental effect first and foremost on the product categories that the products show up in. It affects the search engine. It completely affects the discoverability of anything. And consumers are…less apt to buy a product if they can't visually identify with a picture."
In addition to good product data and accurate product imagery, personalization—the ability to automatically tailor the shopping experience to each individual customer—is another success factor. Recommending peanut butter to a shopper who just bought a large jar of it causes you to lose credibility and trust. (Learn how personalization can enhance your eCommerce experience by increasing customer engagement and revenue with Mercatus AisleOne).
2. Consistent online and in-store product information
It is more important than ever to show accurate product availability in real-time. This is especially the case in times of crisis, with a rapid influx of online orders, high-demand for certain product categories and disruption in supply chain. Shoppers need to know what they can purchase online and in-store. And they want reassurance when shopping online that they will receive all or most of the items they ordered. Here are some tips on how to effectively manage grocery inventory in times of crisis. 
Pricing and promotions need to be consistent in-store and online, or retailers risk losing shopper trust. This applies to everything, from regular pricing to deals and offers available exclusively to loyalty shoppers. Consistency helps to build the seamless omni-channel experience grocers need to offer to their shoppers. 
In addition to communicating when an item is out-of-stock, it is important that you recommend a substitution that is relevant to your shopper. Personalization solutions like AisleOne from Mercatus, automatically serve up relevant substitutions to help you ease shopper frustration around out-of-stock items and keep them engaged and shopping with your retail banner.
3. Add shopping list items to cart
Because the shopping list is a traditional and familiar tool for in-store shoppers, it provides an opportunity for conversion. Consumers often use a mobile app to build their list on-the-go, using it to shop at their next in-store visit. By making it easy to "add shopping list items directly to cart" with a single click, you can convert offline shoppers to shop online, increasing online shopping volume. 
With more shoppers moving online, this feature also benefits online shoppers who have products they purchase on a regular basis, like milk or bananas. Similar to a quick reorder function, shoppers can quickly build their basket with household staples, saving time on their weekly shop.
By owning their eCommerce experience and shopper data, grocers can use shopping list data to gather insights on buyer intent, conversions, shopper personas and more.
4. Frictionless checkout
Abandoned carts are a sure sign that the ordering process is broken. Incisiv found that best in class retailers convert more than 75% of shoppers who start a cart, whereas median retailers convert just over 50%. 
One of the main reasons shoppers abandon their online purchases is because the checkout process is too cumbersome. As a retailer, your job is to get customers through the payment process as quickly and as painlessly as possible. One-page checkout is a surefire way to streamline the path to purchase.
The Digital Maturity Benchmark Report identifies these four features and functionalities as table-stakes for a frictionless checkout experience: 
Enabling online ordering across fresh food, meat and prepared meals
Ability to save and use reorder lists
Allowing multiple payment options such as cards, gift cards, coupons and loyalty points
Delivery options: BOPIS (click-and-collect) and scheduled home/curbside delivery.
5a. Fulfillment options: click-and-collect
As shoppers' purchasing habits continue to evolve, they expect to be given the option to shop online when they crave convenience, in-store when they want immediate gratification, and sometimes even a combination of the two. 
Click-and-collect services, in which groceries are ordered online for pickup at a store or other location (also known as curbside pickup, Buy Online Pickup In-Store or BOPIS), are becoming increasingly popular in the grocery vertical, with year-over-year rise in demand for this service.

In fact, click-and-collect has been the primary driver of online shopping popularity, which increased from 18% of all online grocery sales in 2016 to 48% in 2018. These numbers suggest that today's consumers are seeking greater levels of comfort, convenience, and control over the end-to-end shopping experience.
In the wake of the COVID-19 pandemic, shoppers are looking to retailers to offer services that protect their health. Grocers have started offering contactless pickup, where shoppers pay online and have groceries delivered straight to the trunk of their car. California grocer Raley's Supermarkets has taken on this approach and increased efficiencies with an assembly line style of process for fulfilment.
If you're not yet harnessing the power of click-and-collect, read our eBook to learn how to plan and execute a winning click-and-collect program. 
5b. Fulfillment options: home delivery
With shoppers being urged to stay home and purchase groceries online, delivery services are in high-demand. This is especially the case for those who are sick, in quarantine or who are among the vulnerable population. Many grocers have invested in offering contactless delivery (leaving deliveries at the doorstep) as means of increasing safety measures to protect employees and shoppers.
Grocers who own the entire eCommerce shopping experience, from store to door, are best equipped to meet their shoppers needs. They can control the quality of experience, protecting their brand and the loyalty of their shoppers. They can implement important features identified in the Digital Maturity Benchmark Report, like real-time order updates to shoppers (from pickup instructions to delivery routes). And by owning the delivery experience, instead of outsourcing to a delivery-provider marketplace, grocers have the added benefit of increasing profit margins. 
The keys to a successful delivery program, according to Guy Bloch, CEO of leading delivery orchestration platform Bringg: start small and scale up, own the delivery program and communicate with your shoppers. His message to grocery retail leaders:
"Don't wait…. The market is changing in front of you…. Understand that this is no longer a nice to have, it's a strategic necessity, and you should approach it strategically by looking at a platform."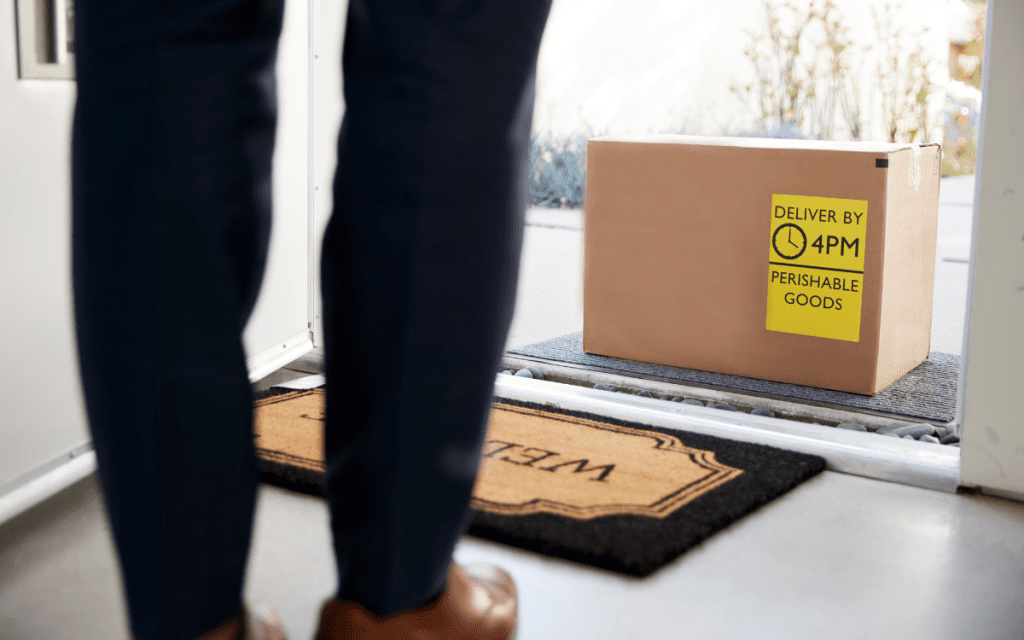 What's in store for the grocery eCommerce website of tomorrow?
In the COVID-19 era, every opportunity to minimize time spent in stores is critical for consumers. As a result, click-and-collect and delivery options have grown exponentially. Our data has seen online shopping account registrations increasing 1,000% and mobile app downloads up 300% in one month. 
In the very near future, we predict that grocers will shift to a more commoditized fulfillment model. By using a variety of pick-and-pack solutions and delivery partners, grocers can provide a more versatile response to customer needs while retaining ownership of the experience and brand. Owning the eCommerce experience from beginning to end will be essential to both cater to consumer expectations while protecting and expanding their retail brand and margins. 
Some grocery retailers may even operate their own marketplaces—what we've dubbed the "reverse-Amazon model." This involves setting up an eCommerce site and inviting complementary, non-competing retailers (think kitchen and tableware, small appliances, patio furniture) to have real estate on your site. By offering a broader selection of goods, the grocer-run marketplace becomes a one-stop shop for their customers, encouraging shoppers to come back again and again. 
In the post-COVID-19 world, it's highly likely more consumers will be shopping online for groceries. This will be a lasting behavioral change. As emarketer.com points out, eCommerce habits "form during periods of intense activity, and when those habits already have momentum, they become even stickier." These days one thing is a certainty, retailers who lag behind and don't deliver the kinds of online shopping experiences their customers want risk losing out. 
Get an in-depth analysis of features that leading online retailers offer. Download the full Digital Maturity Benchmark Report.