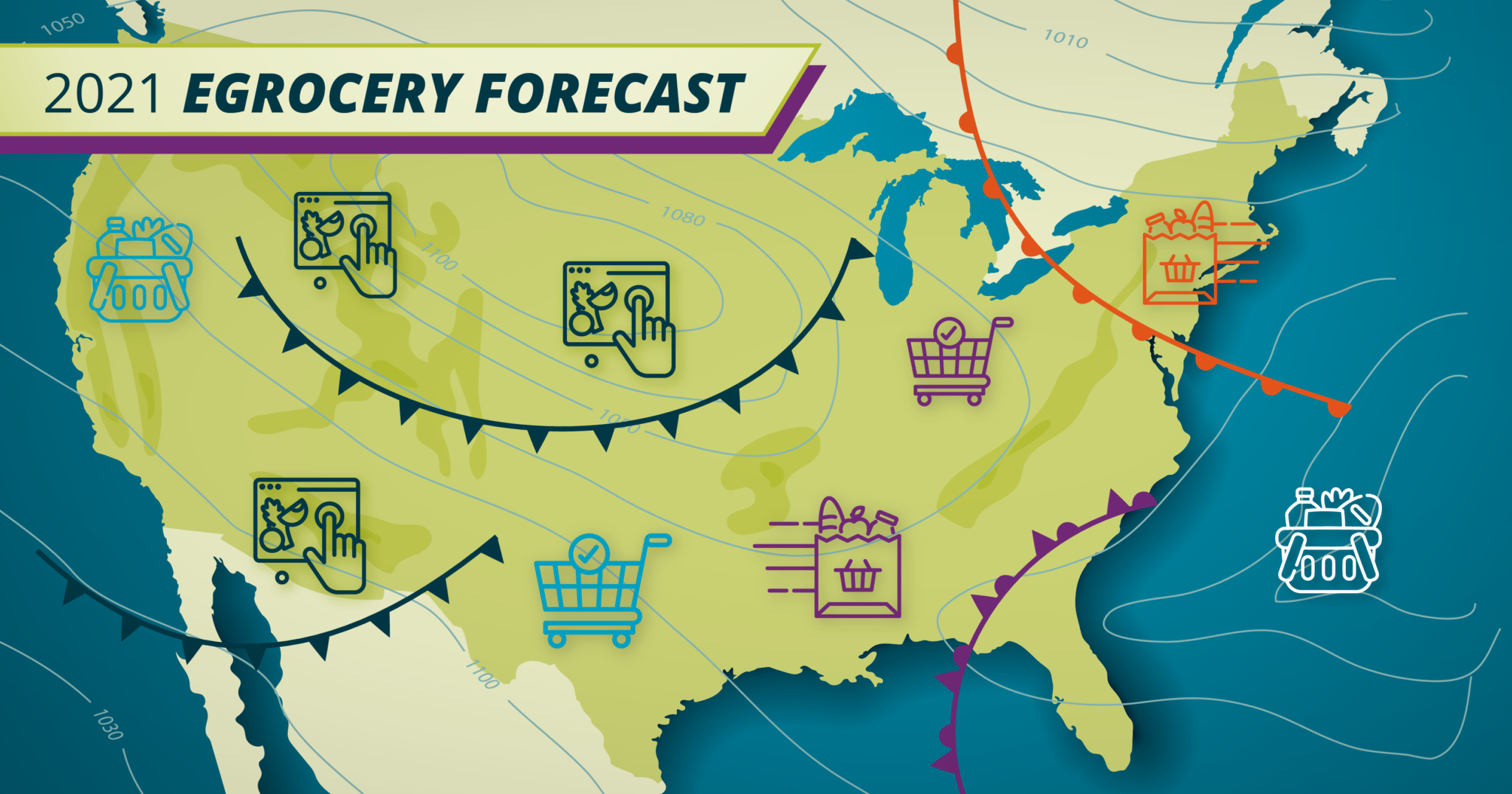 Food Retail Predictions for 2021
What food retail predictions can we make about 2021? Read this blog to find out what to expect of the industry.
This year was certainly not predictable. As the grocery industry grapples with the impacts of COVID-19, we've considered what food retail predictions can be made for 2021.
The pandemic has played a major role in accelerating grocery eCommerce adoption. And until the majority of the U.S. and Canadian population are vaccinated (mid-year or later), many people will continue to work from home and spend more time at home. That means the growth we saw in grocery eCommerce throughout 2020 will be sustained. Brick Meets Click research (sponsored by Mercatus) from November 2020 showed a record-high repeat-intent rate amongst online delivery and pickup shoppers, with 83% intending to buy again through their chosen method. 
This will continue to have a profound impact on the industry, certainly well into 2021. Here are our food retail predictions for how that will shake down. 
1. Re-organizing for safety-first
Traditional store formats will need to be reconsidered to account for the increased demands of in-store safety protocols and contactless fulfillment. Retailers who can adapt their planograms and/or expand into micro fulfillment centers (MFCs) or dedicated "dark store" warehouses will be able to scale their business while growing their online shopper base.
Follow the 5 Steps to Grocery Pickup Program Success to develop a profitable safety-first, curbside pickup program.
2. Two-way expansion of meal kits
The popularity of meal kits and prepared foods saw a huge uptick in 2020, and they'll become even more mainstream in 2021. Grocers will need to reallocate prep floor space to accommodate increased demand. They will also offer shoppers the opportunity to augment their meal kits with complimentary grocery staples. Meanwhile, meal kit providers selling direct-to-consumer will continue expanding into grocery retail, offering grocery staples alongside their meal kits to boost market share. 
3. Making eCommerce more affordable
With more Americans out of work, reliance on programs such as SNAP EBT and WIC has grown considerably. Grocers looking to capture a wider base of shoppers need to find ways to make it easier to spend program dollars on their eCommerce site. This includes accepting online SNAP payments and improving the discoverability of eligible products to help shoppers build baskets within their budget.
4. Improved accessibility of eCommerce
People in high-risk groups such as seniors, people with disabilities and those who are immunocompromised are rapidly shifting their shopping online. Grocers need to support these shoppers by complying with website accessibility regulations and by investing in support services like call centers trained to help new shoppers from these groups navigate their site.
5. Renewed emphasis on omnichannel
With a massive increase in online grocery orders this year, retailers face huge service fee payouts to third-parties that eat into the revenue earned through marketplace sales. In 2021, retailers will continue to focus on reclaiming lost revenue by directing shoppers to retailer managed eCommerce sites. And as contracts with marketplace providers come up for renewal, expect grocers to negotiate access to valuable shopper data gained on marketplace purchases — a key component of grocers' long-term strategies to grow their businesses online and in-store.
6. Focus on securing online (Consumer Packaged Goods) CPG ad dollars
CPGs are shifting advertising budgets to meet shoppers where they are — online. As a result, competition is increasing between retail giants and regional grocery retailers. Who will win CPG ad spend going forward? The programs that offer highest value through return on ad spend (ROAS) and access to key insights into target consumers.
Discover how the Mercatus Digital Advertising program makes it easy to provide high ROAS, gather data and claim your share of CPG advertising dollars.
7. Survival of the fittest
Amazon will make a play to rapidly expand its brick and mortar stores through acquisition. And competitors will also start to consolidate. Grocers without trade dollars will not be able to make ends meet. This will be a result of declining sales after the vaccine is distributed and consumers can spread food spend across several categories, aside from grocery. This makes it more important than ever for grocers to look ahead, beyond the pandemic. They'll need to consider expanding their revenue streams and capturing CPG ad spend online.
8. The evolution of B2B grocery eCommerce
Post-pandemic, large bulk buyers will want that same easy-to-use, self-service experience they came to expect as consumers shopping from home. As the economy bounces back, expect bulk-based retailers to offer 24/7 availability, intuitive navigation, rich product information, easy quotation and tax-exempt capabilities and buying assistance via web and mobile.
9. Rapid adoption of automation
More grocers and CPGs will adopt intelligent automation to handle the growing demand for scarce products in certain categories. Grocers will also continue investing in automation that powers a wider array of efficient, contactless services. And as grocers and CPGs scale up their eCommerce operations, they'll require fulfillment technology and auto-replenishment programs to keep pace.
Learn how Mercatus Enhanced Fulfillment can help.
10. Revisiting strategy
With online sales hitting all-time highs, retailers will need to go back to basics and rethink their strategy for the new reality. How can they efficiently scale to meet the growing demand for eCommerce, pickup and delivery? What services can be farmed out, and which need to be owned? Where can they improve their digital offering? Every retailer of every size will need to undergo this exercise to prepare their business and protect market share. 
Grocers who are successful through 2021 and beyond will be the ones with multi-tier architecture supported in the cloud, tightly integrated with an existing ecosystem of third-party solutions. This will give them both control over their operations and profit margins and flexibility to adapt to the changing landscape. 
Have these food retail predictions got you thinking about 2021 strategy and planning? Discover which functionalities are most important for your digital strategy in 2021 by reading Incisiv's 2020 Grocery Digital Maturity Benchmark report.
For more content on digital grocery strategy, you might enjoy: