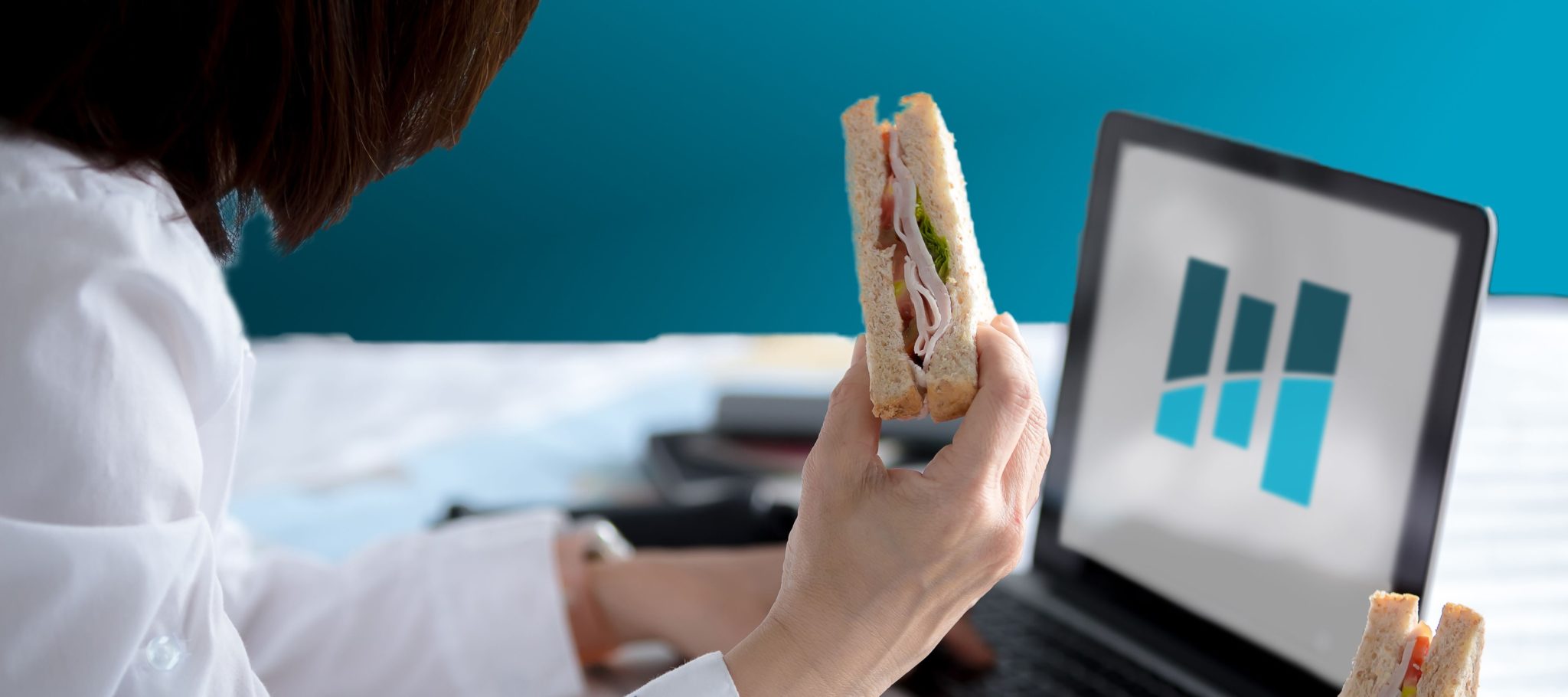 Are delivery-provider marketplaces good for grocery retailers?
Are delivery-provider marketplaces right for your online grocery business? This is the first in a series of 4 blogs, based on our new resource, The Modern Grocer's Guide to Winning at eCommerce. Each blog shares key insights from the guide that will help grocers develop a compelling and profitable eCommerce experience that they own and can control.
As consumer demand for grocery eCommerce skyrockets, grocers are looking to eCommerce providers to help meet their shoppers' needs. In this blog, we explore a popular solution for many grocery retailers, which is outsourcing eCommerce to a delivery-provider marketplace. In such a pivotal time for the grocery industry, is a delivery-provider marketplace the right digital commerce solution for your business?
The good and bad of delivery-provider marketplaces
The upside of marketplaces
You've put a lot of hard work into building your grocery business, maybe several generations' worth. To maintain your hard-earned success, you know you've got to satisfy your shoppers' demand for convenience with an online grocery shopping experience. Maybe you decided that a delivery-provider marketplace would get you into the game quickly, with minimum inconvenience and upfront costs. 
There are certainly a lot of good reasons to enter eCommerce through this channel. Low capital costs and easy set-up are probably the main attractions. The promise of being able to get an eCommerce store up and running quickly, with a minimum commitment of internal resources or financial investment is appealing. This may resonate especially for grocers looking to answer a business need without having to do too much work.
The online marketplace gives you discoverability too. You're riding on the coattails of a large platform with search engine optimization (SEO) configured to attract local shoppers, so customers have a number of different ways to find you online. You're there, side-by-side with other grocers on the virtual block. Maybe you'll even woo some of your competitors' customers over to your offering.
And with home delivery, you're satisfying customer needs for convenience, time-savings, and in the public health environment, contactless shopping. Over the short-term, you'll likely see some impressive wins, such as top-line revenue gains and a marginal increase in online market share.
How much money are you losing with a marketplace solution?
The promise of getting into eCommerce without any hassles or significant investment is appealing, but don't think for a minute it doesn't come with some serious downside. 
There's always a reputation risk attached to someone else coming between you and your customers. In light of COVID-19 and the rapid influx of online orders, working with some delivery-provider marketplaces has come at a cost to your brand experience. From cancelled orders, to order mishaps, delivery providers have been under fire to respond to unhappy shoppers and workers.
Beyond challenges that have come out of the pandemic, there are also significant financial costs at hand. While not immediately apparent, these costs could be significant if you're relying exclusively on your delivery-provider marketplace for eCommerce. Here's how:
Retailers typically see a margin of around 18% on an in-store transaction. 
When they use delivery-provider marketplaces, that falls to just 5%. 
Meanwhile, the marketplace's margin could go as high as 14% on an average online basket.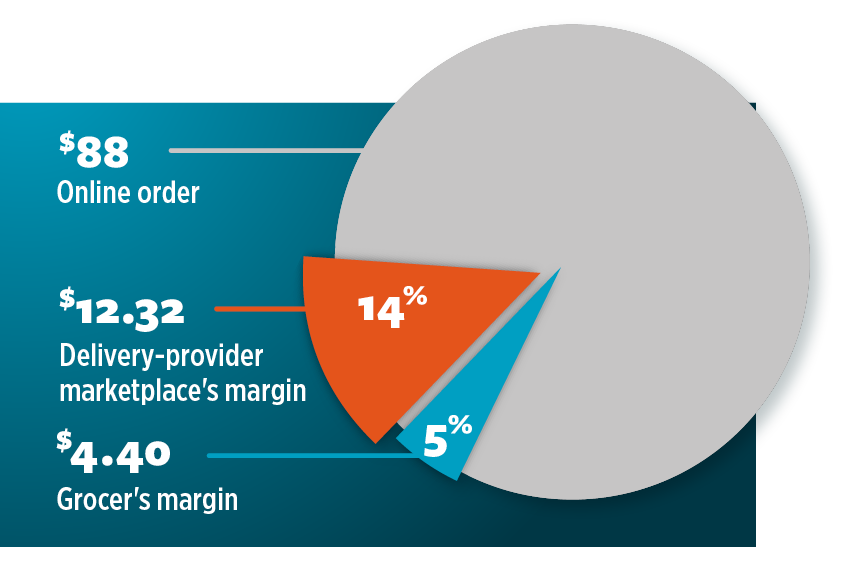 On a typical $88 order, the retailer nets $4.40 while the marketplace operator takes $12.32.1 (Learn more about these breakdowns — download the guide.)
And while you're taking on financial burdens such as the delivery fee, tip, credit card fee, administration and labor costs, the delivery-provider marketplace operator is earning CPG digital advertising dollars — from your shoppers. 
With your own eCommerce solution in place, you can take back those margins, keeping up to 16% or more of that typical basket. Not only is this much higher than you could get with a delivery-provider marketplace, it's almost as high as your in-store margins.
Do you own your customer data and your customers?
Another risk of working exclusively with a delivery-provider marketplace is losing control over customer data. 
When you use a delivery-provider marketplace, every transaction, every product preference, every click is tracked and stored by the delivery provider. They know exactly what and when each customer buys and they control the experience from start to finish. Moreover, they own this and all the data they collect on your customers — and you do not. 
That means up-selling and cross-selling become nearly impossible for your own eCommerce team. 
---
Don't miss The Modern Grocer's Guide to Winning at eCommerce. 
Discover 10 Questions you should ask your delivery-provider marketplace.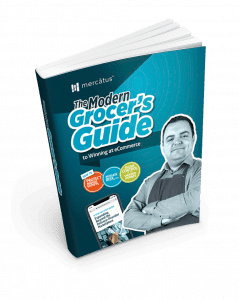 ---
With a delivery-provider marketplace, you risk losing your customers too. A recent food retail survey by Morgan Stanley found that 57% of Instacart shoppers would find another retailer on Instacart if their preferred retailer was not listed.2 In effect, the marketplace has turned retailers into branded warehouses, with little to differentiate between them other than geography.
And with the recent surge in online grocery shopping, thousands of new online shoppers have been directed to delivery-provider marketplaces rather than retailed owned and controlled digital storefronts.
Moreover, industry commentators have expressed concerns that some delivery-provider marketplaces could themselves become retailers, marketing products directly to customers.3
How to reclaim your eCommerce experience
It's important to know that even if you're in a relationship with a delivery-provider marketplace operator, it's not too late to move to a better long-term solution.  
By controlling your own eCommerce experience, you avoid the pitfalls of vendor lock-in. Look to eCommerce providers that offer you the ability to connect your retail technology systems to your online experience, including digital flyers, coupons, and loyalty.
Standing up your own eCommerce experience is the first step in reclaiming your shoppers. At a minimum, you will stop sending your customers to the delivery-provider marketplace and stem the tide of customer erosion. This shift does not necessarily mean delisting from the marketplace altogether. Instead, it is about gaining leverage: having the freedom to onboard additional delivery providers, reach additional markets, and dictate terms of data ownership and margin compression rather than executing within the rules and constraints placed upon you by another business.
The reasons to get back in charge, and recapture those lost profits and reclaim ownership of valuable customer data, are compelling. But how do you do it?
A roadmap to help you get back in charge
We're going to explain key steps in this blog series. We'll cover everything you need to know, from the strategy and internal planning, to finding and working with a partner, to implementation and beyond. You'll discover:
Key components of a grocery eCommerce strategy
What to look for in an eCommerce solution provider
Red flags to look out for in your delivery-provider contract
How to prepare for a discovery meeting with a new solution provider
What key metrics you should be tracking
How to successfully launch and futureproof your new eGrocery experience
If you can't wait to read the full blog series, download The Modern Grocer's Guide to Winning at eCommerce. It's your comprehensive guide to breaking free from the limitations of a delivery-provider marketplace and taking the right steps to get back in charge of your eCommerce solution.
Looking for more resources on how to expand your grocery eCommerce?
Sources:
1 Information and calculations from Mercatus, "How Much Money Are You Leaving on the Table?"
2 Morgan Stanley, Checking Out: Annual Food Retail AlphaWise Survey, February 20, 2020.
3 Brittain Ladd, Shakeup On Aisle Five: Will Grocery Retailers Abandon Instacart?, December. 24, 2018.