12 Grocery Retail Holiday Tips for Supermarkets
The 2020 grocery retail holiday season will be different than any other. Here are 12 tips to help you manage higher order volume and in-store traffic.
2020 has been a year like no other, and this grocery retail holiday season promises the same. Demand for online shopping and curbside pickup has never been higher. And volumes for online and in-store shopping will likely close out the year with more record-breaking numbers.
What can you do to prepare for the holiday grocery shopping frenzy? We've pulled together a list of 12 seasonal tips. From staffing to stocking to sanitizing, here are 12 ways to prepare for this year's grocery retail holiday season.
1. Celebrate safe shopping
Many more shoppers are ordering online for delivery or curbside pickup as a safer way to shop. The holiday rush is a good time to reinforce that behavior to solidify the ongoing health of your eCommerce program. Could you provide specials that are available online-only? Or offer free pickup or delivery during the season to encourage the online habit?
2. 'Twas the week before Christmas
Based on Thanksgiving order volume, you can expect in-store and online traffic to peak for the entire week leading up to the holidays. Shoppers will be ordering ahead to secure key products before stocks run low. You'll want to check your inventory and standing orders and boost where necessary. Create bundles of popular grocery retail holiday products commonly purchased together. Pre-pack them to be made available in-store, and online in a single click.
3. Ramping up the eGrocery workshop
For eCommerce orders, one of the big challenges for grocers is scaling fulfillment to demand. Can you increase the number of shoppers you can accommodate in each window? Can you extend shopping hours to add more windows? This involves having enough pickers, as well as the runners and parking spots or delivery drivers to accommodate the extra orders.
As you plan for expansion in 2021, you'll want to consider technology solutions to scale your business efficiently while increasing profit margin, like Mercatus Enhanced Fulfillment.
4. Season's greetings
What shoppers want most is to feel safe when they enter your store. Keeping numbers well below capacity is a good way to do that. A dedicated people counter not only manages numbers, they control incoming and outgoing traffic flow and provide a clear visual signal to customers that you care enough to follow safety protocols. If they spread a little holiday cheer too, so much the better!
5. Add holiday sparkle
Early pandemic learnings suggested that shoppers feel safe when they smell bleach in the store. Increase visibility so customers can actually see that the buggy handles are being wiped down after use and can smell that floors and high touch surfaces have been disinfected. If you've expanded grocery retail holiday shopping hours, remember to arrange for night cleaning to happen later, after the last shift. This way, early birds arrive at a freshly cleaned store.
6. Keep safety at the top of shoppers' lists
This busy time of year, shoppers have a lot on their minds and may forget some of your store's safety protocols. To keep safety measures top of mind, place visible reminders to social distance throughout the store. This could include hand sanitizing stations at entry, traffic flow arrow on aisle floors and spacing markers in the checkout line. Hang up signage at eye-level reminding people in a fun, seasonal way to give other shoppers space. For example, "Keep twelve candy canes apart".
7. Leave no timeslot unfilled
Encourage in-store and online customers to shop during off-peak times by offering discounted or free fulfillment for those time slots. This saves your shoppers time and helps you fill slow pickup windows, achieving a more consistent flow of traffic in your stores.
8. Give the gift of time
Offer early-bird hours to high-risk shoppers such as the elderly and immunocompromised. That's when stores are newly sanitized and at their cleanest. This has been a helpful strategy throughout the pandemic and is especially important during the December rush.
9. Plan for the "dashers"
There will always be shoppers who leave everything to the last minute, or who have to run in for a few forgotten items. Put popular last-minute items (such as stuffing mix, chocolates and gift bags) at the entrance or on end caps so they can be found easily. Convert more checkouts into express lanes so last-minute dashers can get in and out quickly. Consider adding a bagger to each checkout lane to get customers through more quickly.
10. Remember every customer on your list
Many people have been hit hard financially by the pandemic and are struggling to get by. Ensure you serve the full range of shoppers' budgets by offering special deals at all price points. Offering discounts or coupons on seasonal essentials will help ensure that no holiday table is bare.
11. 'Tis better to give
The businesses that stood out in a good way in 2020 were the ones that gave back. The holiday season is your opportunity to shine by assisting those less fortunate in your community. Many retailers support local food drives and charitable organizations each year. Grocers can also support local businesses by partnering with restaurants, like Save Mart has done with local chefs in their region.
12. Send a thank-you
Always a key part of your success, this year your staff transformed into essential front-line workers, braving exposure to the virus to keep customers fed. Be sure to recognize their bravery and hard work in an extra special way. Think holiday bonuses and hero pay (as retailers like Brookshire's have done throughout the pandemic), but also other forms of support too. Employees are just as busy as shoppers, so time-savers like a catered meal or hamper of holiday essentials expresses how much you value their contribution.
Plan for continued high demand for grocery pickup in 2021 and dIscover best practices for building and expanding your program. Download your free copy of How to Build a Successful Grocery Pickup Program.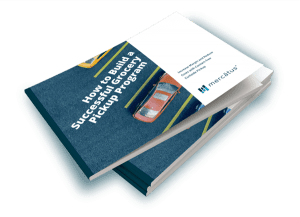 Want more resources and insights to help build your online grocery strategy for 2021? Read these blogs: